Dina Wakley is an artist based in Arizona. She has developed her own artistic style of mixed media art, using bright colors and many different mediums, like inks, sprays, stencils, stamps, and scribble sticks. She's also a Ranger Signature Designer, and she's developed her own lines of acrylic paints, brushes, rubber stamps, and more. Each year she teaches her techniques in cities all over the world. In 2020, she is even teaching at an art retreat in Mexico and combining that trip with her new love, scuba diving.
Listen here or use a podcast app, such as Apple Podcasts, Castbox, Spotify, or Stitcher.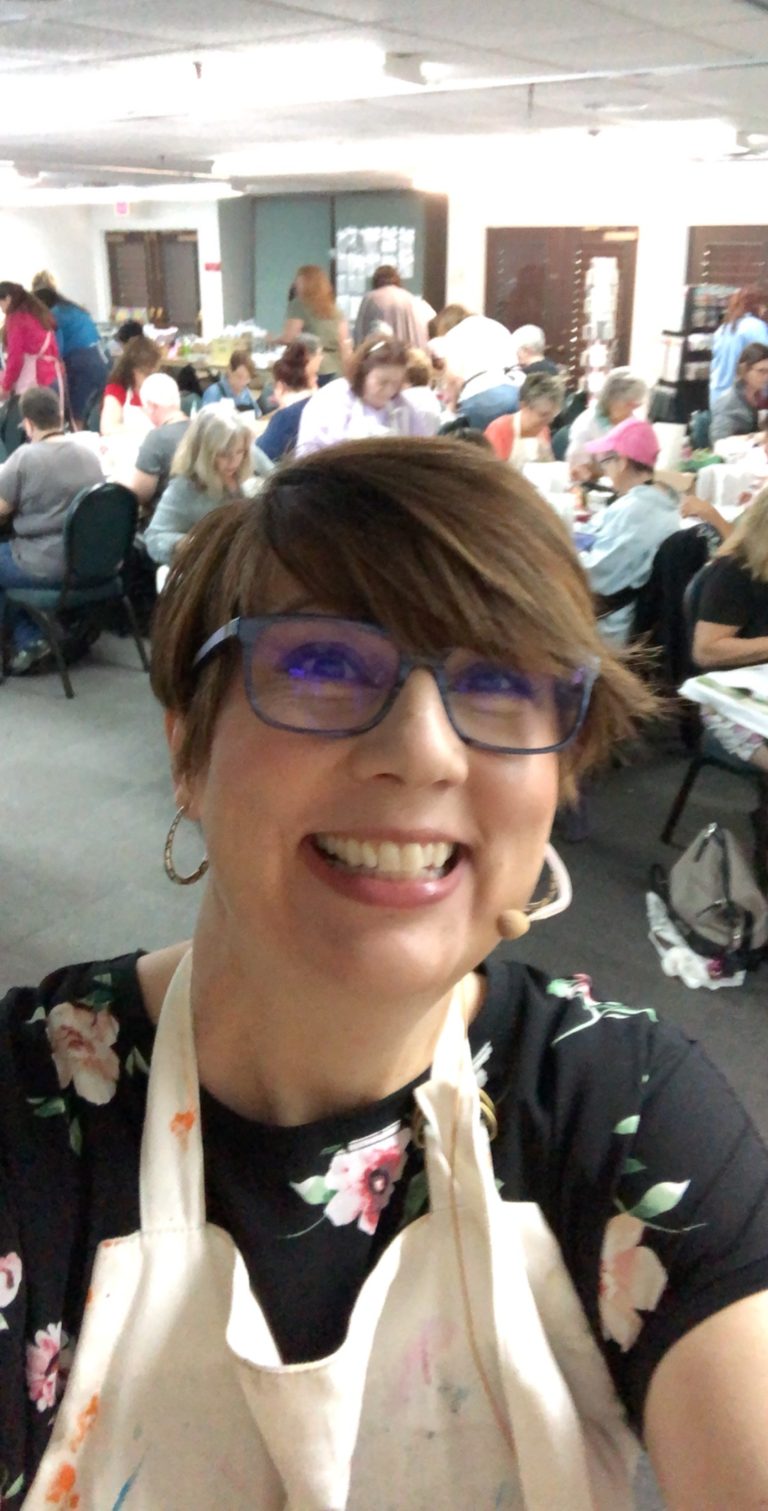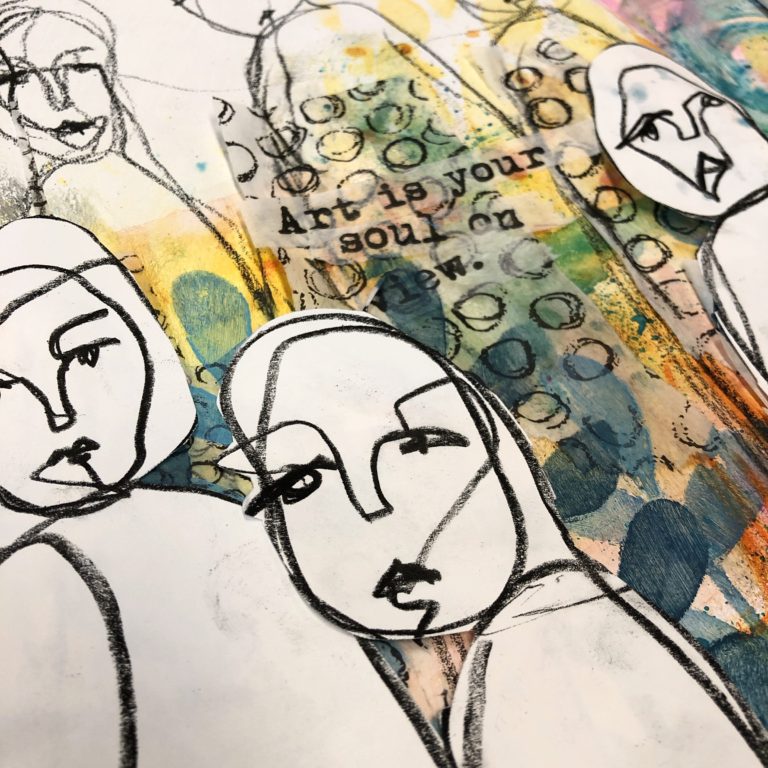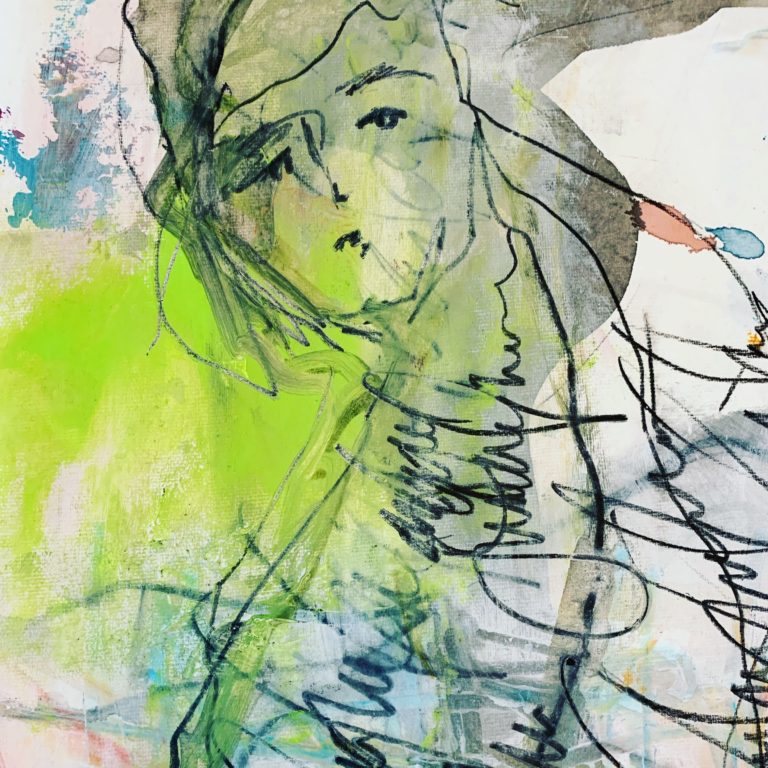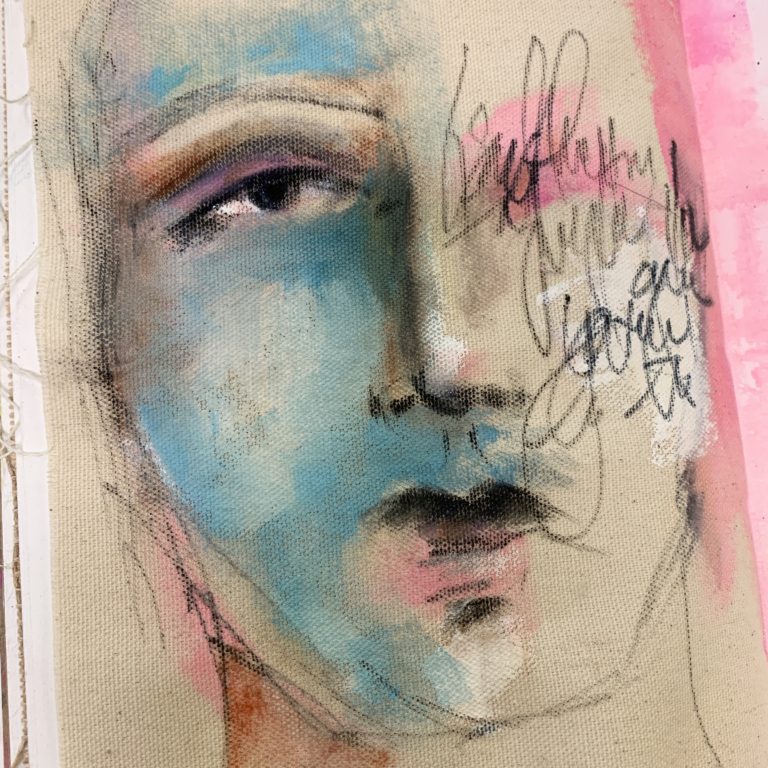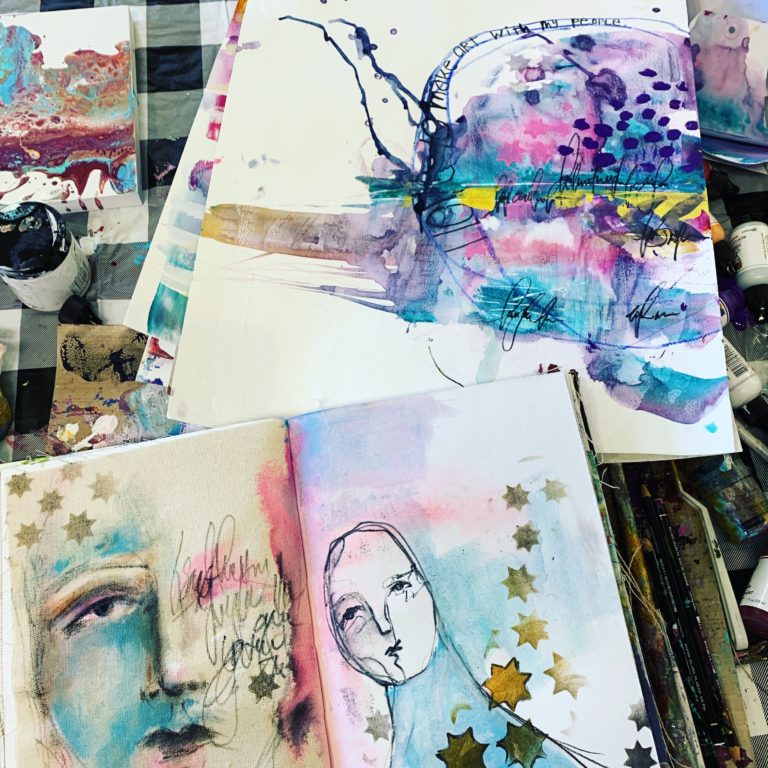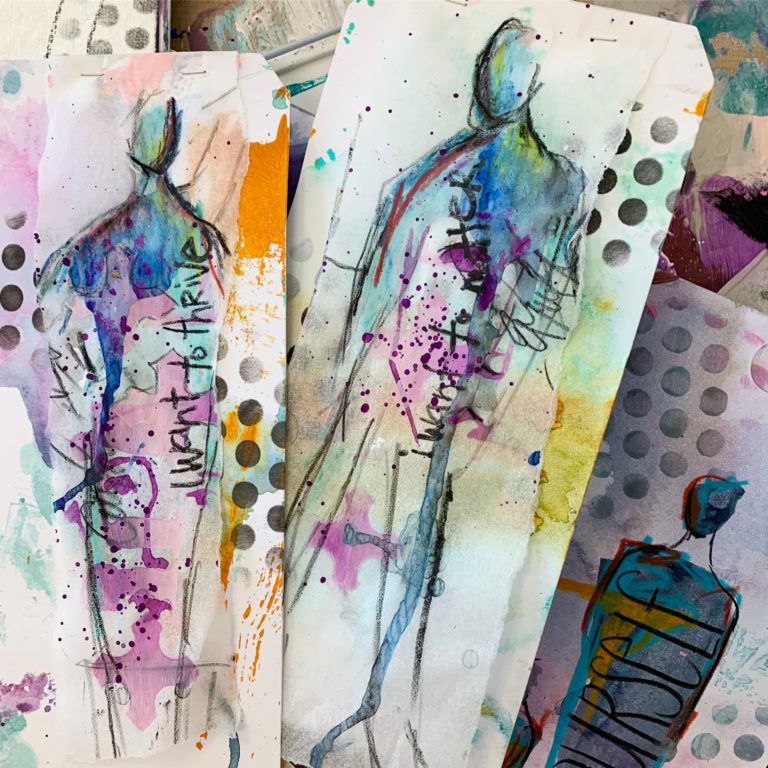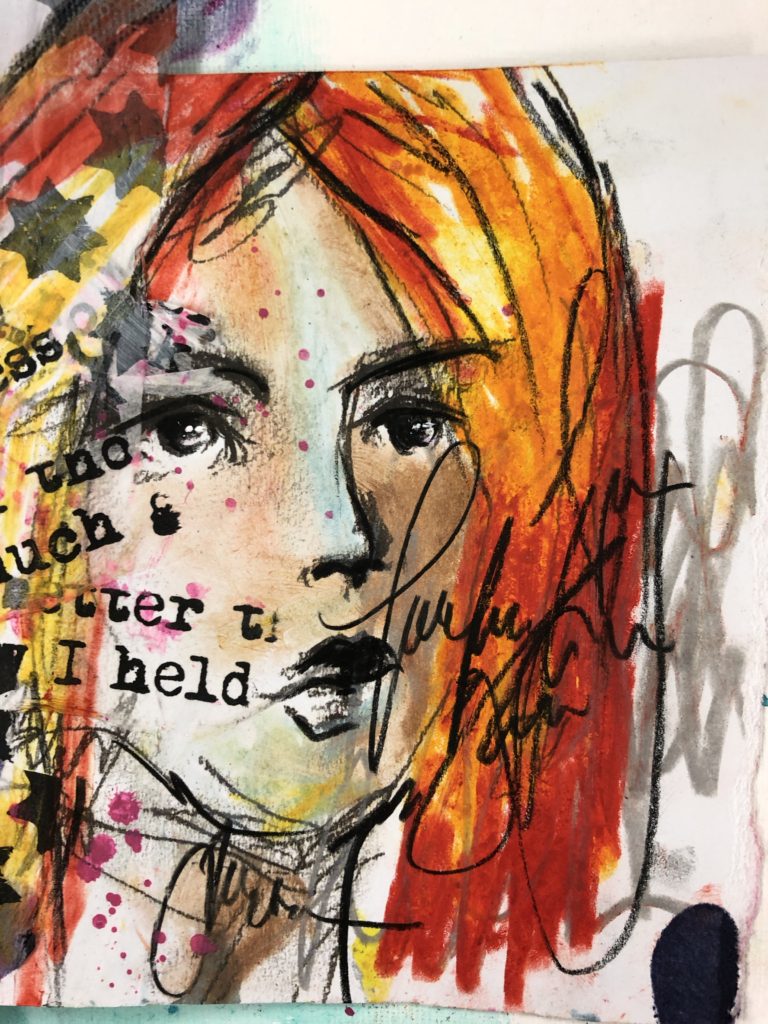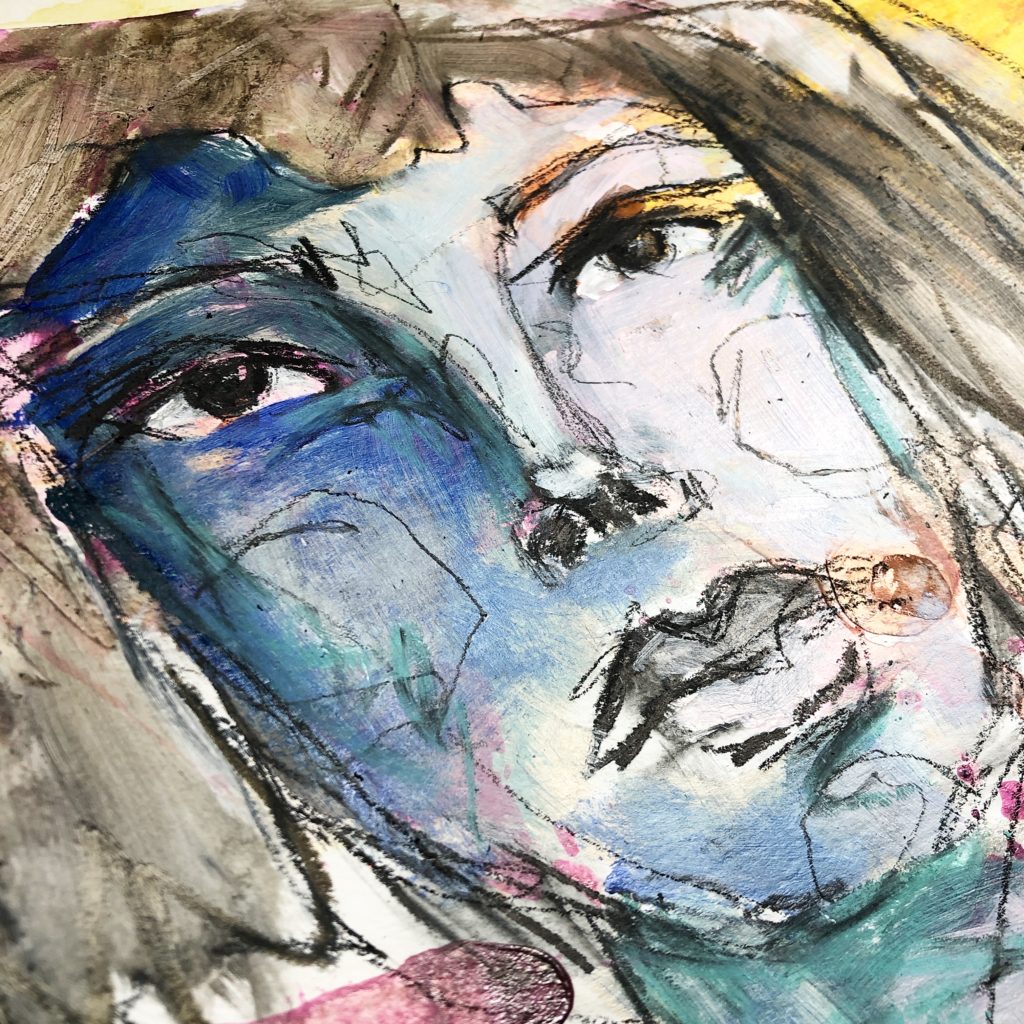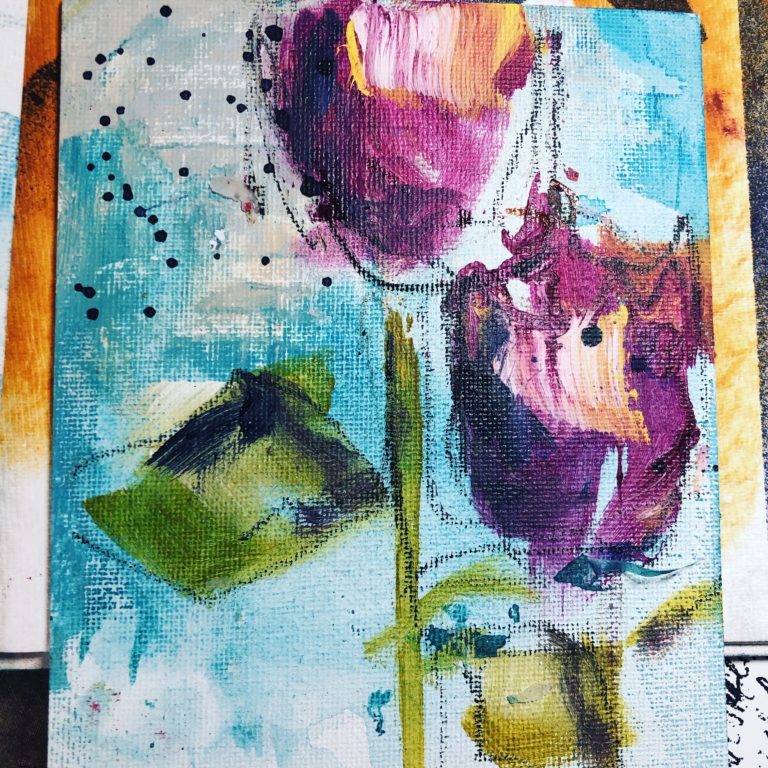 Dina's website is dinawakley.com.
Her Facebook page is Art of Dina Wakley.
You can find her on Instagram @dinawakley.
We talked about Dina's art and diving retreat. You can find out about it on her website here.
Dina recommended the book Art and Fear by Ted Orland and David Bayles.
Dina mentioned that she also offers  online classes on  Jeanne Oliver's website.
Dina and Ranger Ink are doing A Year of Gratitude Challenge. You can find the details on her blog here.
Here are some great takeaways from our conversation:
Don't be afraid to make art in your own way. At the beginning, Dina got a lot of grief from people because of how she altered photos and just slapped things on to a page. But that was the way she always worked, and it worked for her. She was making art for art's sake and wasn't using photos with the purpose of preserving memories, and that was O.K.
As Dina says, "the great thing about art journaling is, it might be ugly, but it's not wrong." So make art, and love your art, and don't worry about what other people think.
Another thing she says is, "if you release yourself from the outcome, you can embrace the process." Because the process in art making is what's fun and can be very satisfying.
And the next thing that happens is: Through the process, and making things over and over, you will become good at it. And surprise: You've become an artist!
Dina teaches a lot of classes and independently owned craft stores. She urges you to support those stores and take advantage of the information and tips you can get from the store owner when you walk in and ask them about art supplies.
If you have a few classes that you teach live, you may want to offer a list to potential locations so they can choose which class they think their customers would like you to teach. The venue owners will have a good idea of their customers' experience levels and needs.
Dina now offers an acrylic pouring medium with her line of Ranger products. When she does acrylic pouring, she likes to do it on a rigid surface so that the pour doesn't flow down the valleys in a flexible canvas. She pours on wood panels or media board. Media board is another product she has with Ranger. It is canvas glued to chipboard. You can cut it to size. You can even peel the painted canvas off the chipboard and adhere it to other surfaces.
Dina has found that her students can get quite intimidated when she hands out stretched canvases and tells them to paint on that. So she actually doesn't do that anymore and sticks to giving them paper to paint on. Her students feel much more free to paint and experiment on paper than they do on canvas.
In 2020, Dina is offering a combination art and diving trip in Mexico. If you've ever considered learning to dive, this trip would be for you.
If you're having trouble with color or composition with your art, you should take a look at Dina's book Art Journal Freedom. Her other book, Art Journal Courage, is about techniques and layers.