Artist Lorraine Bell was a part of the group that started The Documented Life Project, about seven years ago. She is a lifelong journal keeper who expanded her artwork to include sketches and stories in travel journals. She's truly a wandering artist, and she's planned workshops for next year in Italy and France. She offers online courses on sketching and journal keeping, and she hosts a podcast called The Wandering Artist.
Listen here or download from iTunes, Spotify, Google Play, CastBox, or Stitcher.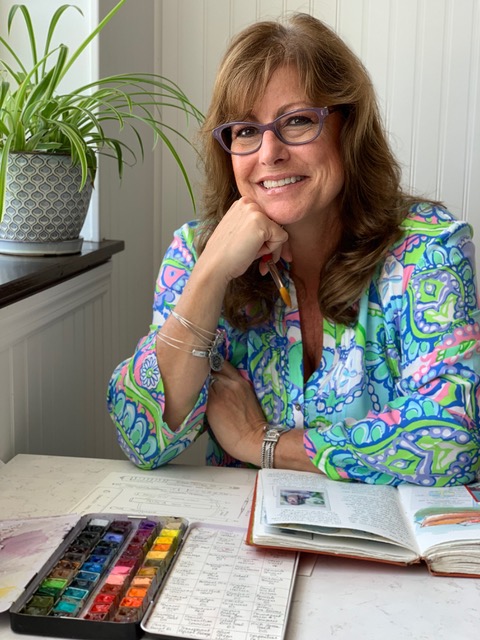 Here are some great takeaways from our conversation:
Lorraine creates her own books for her travel sketches. Often she travels with loose pages and binds them into a book when she returns from her travels. Loose pages give much more flexibility in your drawing and ability to add mixed media items.
Seven years ago, Lorraine and 4 other artists started the Documented Life Project. Each week for a year, they offered a lesson or prompt for creating art in a planner. They ended up with a Facebook group of many thousand participants. Don't be afraid to start something online. You won't know if it will be something that resonates with others unless you try.
For her online classes, she has set up one Facebook group that they all can use. This is less time-consuming than doing one group per class.
When offering online classes, you have the option of offering them through someone else's platform. That enables your class to reach a whole different set of potential students.
When we were talking about overseas retreats, Lorraine made a very good point. As a single woman, it's easier and safer to do your traveling through retreats, where most everything is organized for you and you get to experience it with other women.
If you are looking to host a retreat elsewhere, one option is to connect with a local retreat venue that puts on retreats all the time. They'll know the area and can plan the tours and excursions for your group.
Lorraine keeps her art supply list small when students are traveling to her classes. This makes it easier, especially when it's an overseas retreat.