Rebecca Sower is a mixed media artist from the Nashville, Tennessee area. She started painting and drawing seriously about five years ago. Her paintings incorporate monoprints, collaged papers, and drawings. Recently her collaged pieces have included drawings of birds. She is inspired by what she sees on her walks in the farmlands near her home. Rebecca has taught classes in person and she offers two online classes through Jeanne Oliver's website.
Listen here or download from iTunes, Spotify, Google Play, CastBox, or Stitcher.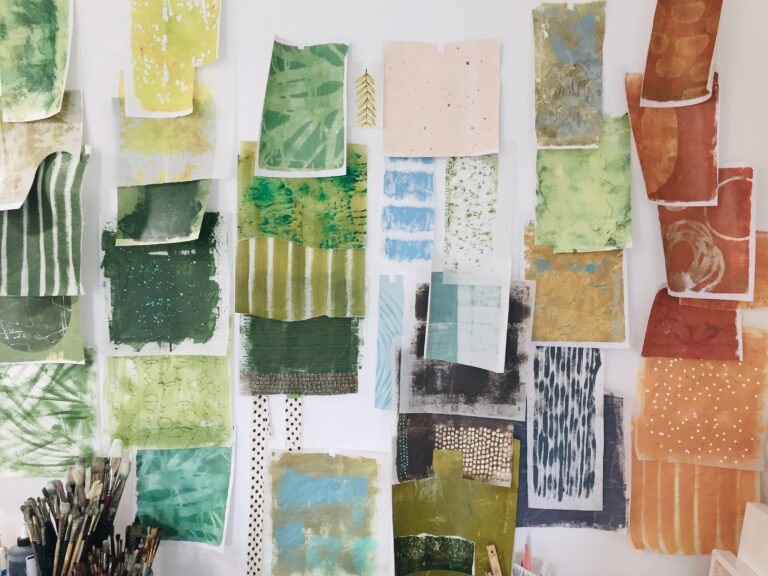 Here are some great takeaways from our conversation:
Rebecca said she has a business degree and that's been very helpful with her art business. That's a very good point. It's a great idea if you can take an accounting or marketing class to help with your business.
Drawing is a skill. When Rebecca wanted to get better at that, she practiced a lot, over an hour a day for a couple years. That's the only way you will get better at it.
Another great thing that Rebecca pointed out is, you're going to make some bad art, especially when you're learning. There's no reason why you can't paint over a canvas and start over.
Painting on paper is less expensive than painting on canvas, especially when you're first learning. But if you paint one you really like, you can just use gel medium to adhere the paper to a wood cradle board.
When painting on paper, if you get it too wet, it will wrinkle when dry. You can flatten it back out by spritzing water on the back, and then putting it under books to dry.
Rebecca pre-paints papers to use for her collages. She uses deli paper, which she can buy cheaply at restaurant supply stores.
Rebecca makes art that is inspired by her walks near her home. She reminds you to remember not just what you saw, but also what you felt during that walk. It's important to include the feels in your art as well.
When she does take photos during her walks, she will convert the photos to black and white. That will help her find the values and their contrast. It also allows her to paint in the colors that she felt rather than the colors that she saw.