If you're an artist who is trying to sell their work, you need to know what is available to sell. Keeping track of your art inventory is essential so that you'll be ready for future opportunities and you can evaluate your sales history at the end of the year. I'll give you ideas of how to keep track of your artwork, what details you should keep track of, and how you can benefit by this.
Listen here or download from iTunes, Spotify, Google Play, CastBox, or Stitcher.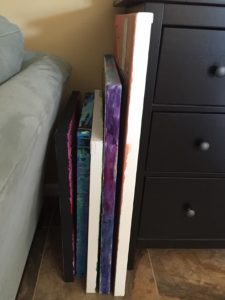 Here are the takeaways from this episode:
Start first by numbering every piece.
Then give each piece a title. (Don't skip this step!)
Measure every piece: Use H x W for 2D, and measure the bases for sculpture.
Write down the media and techniques that were used.
Figure out a price.
Record all this information in a manner that works for you: spreadsheet on your computer, document on your phone, handwritten, 3-ring binder.
Move photos into a separate folder when artwork is on display at a show, store, or gallery.
Keep a separate list for sold items, and keep track of who bought it on your email list.
Analyze your sales a couple times of year to see what is selling and what isn't, and try to figure out why.
If you've found a great way to keep track of your inventory and you'd like me to share your idea, send me an email, and I'll feature it on a future episode.
sredmond75@comcast.net