Andrea Ehrhardt is a mural and lettering artist. She got her start painting for Bass Pro Shops, learning from other muralists and developing her skills. After two years traveling to different locations, painting and lettering at each new store opening, she started her own art business creating murals in her hometown of Springfield, Missouri. After many mural and lettering projects later, she now advises other artists through her membership community called The Artist Academy.
Listen here or download from iTunes, Spotify, Google Play, CastBox, or Stitcher.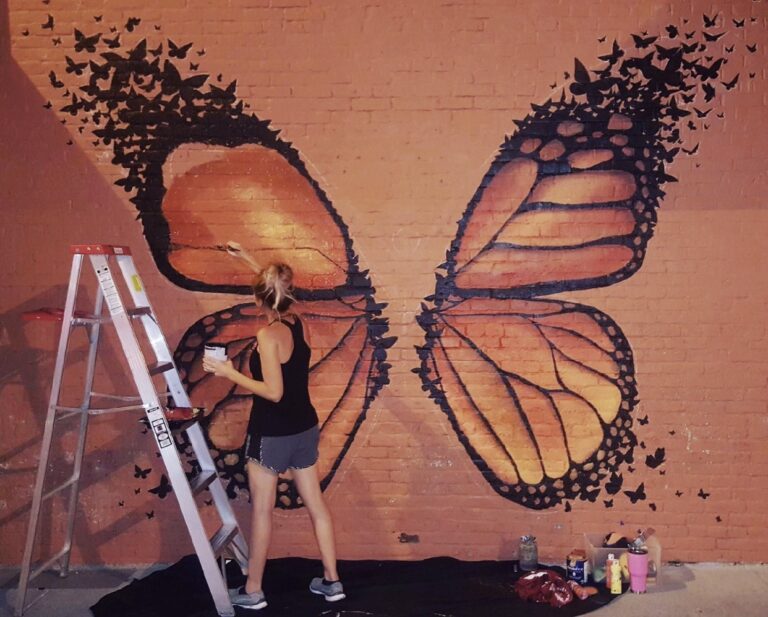 Andrea's website is artbyandreae.com
She can also be found on Instagram @artbyandreaehrhardt
Her Artist Academy membership community, where you can find all kinds of help for your art business, is here on her website.
Here are some great takeaways from our conversation:
Andrea gave a couple examples where she asked for something related to her business and she got it. Don't be afraid to ask. Nothing is lost by asking, and if the answer is No, then you move on or figure something else out.
If you want to learn a new technique, like mural art, approach other mural artists and see if they will mentor you. Offer to pay them for an hour of questions, or offer to assist for them for free. Take advantage of the knowledge and experience of other artists, but be sure you give them something else in return.
A great idea when you make some street art is to create a hashtag for it so people can post their own photos with your art. Be sure and put your Instagram page and the hashtag at the bottom of the art.
Public art is a great way for tons of people to see what you do. Andrea did her first mural, some butterfly wings in Springfield, Missouri, for free for a friend who owned the building. After that, it was free advertising, and she could use that to pitch her street art to other businesses in the area.
When you're proposing a unique project to someone, they'll be more likely to go for it if you really educate them on what it's all about and what it can do for them. Andrea told businesses that her murals would attract people to the business and people would tag them so even more people would come.
For her murals, Andrea swears by Benjamin Moore latex paint because it's thick and gives good coverage. She just uses interior or exterior accordingly. She also uses Nova paint because they have a bigger variety of colors.
Andrea offers a membership community called the Artist Academy. Communities are a great way to learn new things because you get the expertise of the leader, plus she brings in experts in other areas to speak to the group, plus group members help each other out with things that they know. Another thing to know about membership communities is that you can join any time, but you'll usually have access to any resources that were created before you joined. You can always go back and see previous videos and tutorials.
Have you heard of a three-tiered pricing structure? Andrea utilizes this for her art business. You want to offer artwork in three different price ranges so that your art is accessible to everyone, both individuals and businesses. Her murals are her highest tier, then her fine art and prints, and finally, her print of the month club, which is only $7 per print.
Andrea pointed out that it's a great time to be an artist. It's so easy to find followers from all over the world, and it's easy to make videos to show people what you do. If you can't figure out Instagram, or anything else you'd like to try, you can find lots of how-to videos, or look and see if your favorite artist offers instructional videos.
Videos are a great way to show people what you do. The newest way is by making short reels on Instagram. The time-lapse function on your phone works well because a long video showing your process can be condensed to 15 or 30 seconds.
When you're making videos, it takes up a lot of your battery. If you put it on airplane mode, that won't take up as much charge. This is a genius hack that I hadn't thought of. I'm definitely trying that.
When doing public art, check to see if the city has rules about what can be painted and how. You don't want to get in a situation where you need to re-do a mural at your own expense.