Carolyn Peeler of Vancouver, Canada created her company Prone to Wander Retreats to offer art and culture retreats in various countries. Her retreats include cooking classes from local artisans and tours of the area. She also invites an artist to travel with them to teach their art medium, like watercolor or photography. Her plan is to offer retreats again in 2022, in Italy and Morocco. 
Listen here or download from iTunes, Spotify, Google Play, CastBox, or Stitcher.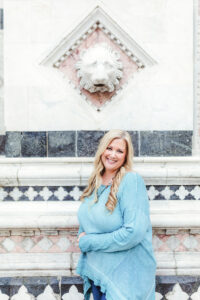 Here are some great takeaways from our conversation:
Retreats are great opportunities to learn about another country and their food, art, and culture. It's also a wonderful gift to you to get away from your daily life and meet new people in a new setting.
If you feel stagnant in your art, it may help to switch it up and work on another completely different type of art, like taking a break from your painting to make some jewelry. You may find that when you get back to your painting you are newly inspired and your creativity is refreshed.
It's a good idea to feature different tours and classes at each retreat to encourage repeat attendees.
When Carolyn planned her first retreat, she planned it with another person so she wouldn't be doing it alone. That's a great way to get started with retreats and share the work involved.
For planning a retreat, you need to balance the needs of your clients with the contracts you may have signed for venues. With this pandemic, looking forward, you'll also have to look at the rules in the country you're going to plus the rules of all the countries of your clients.
As a retreat host, it's best if you include all the travel between locations, most of the meals, and all the classes and excursions in one fee for your retreat. Usually, the only extra thing that your client has to buy is the plane ticket to and from the location.
Carolyn pointed out one other thing that is specific to some countries. If you're providing transportation within the country, you may have to be a registered travel agent in the country. She was able to use a local agent to make those arrangements for her retreat.
When planning additional retreats, make sure you don't plan so many that they outpace your demand. Carolyn is growing her business at a slow even pace for this reason.
It's a good idea to set up a Facebook group for your retreat guests so they can "pre-meet" each other before they arrive and they can ask any questions about the retreat.
Carolyn pointed out that going on a retreat is so valuable to your creative growth. You're meeting other creatives, doing new things, and stepping out of your comfort level when you travel to another country.
If you're interested in going on a retreat in the future, please reach out to retreat companies now and tell them you're interested and would like to be put on their waiting list. That will be so encouraging to them to know that you're looking forward to when they can offer retreats again.