Brooklyn artist Kate Quarfordt is a painter and mixed media artist whose luminous abstract works evoke inner landscapes and portals into other worlds. Her current work celebrates women and their strength through portraits she's creating in the pages of a book. She held a solo show of her small landscapes called Tiny Portals in a New York space during lockdown, welcoming in one guest at a time to experience her art. Kate also expands her art by photographing and enlarging it, and further embellishing the new piece.
Listen here or download from iTunes, Spotify, Google Play, CastBox, or Stitcher.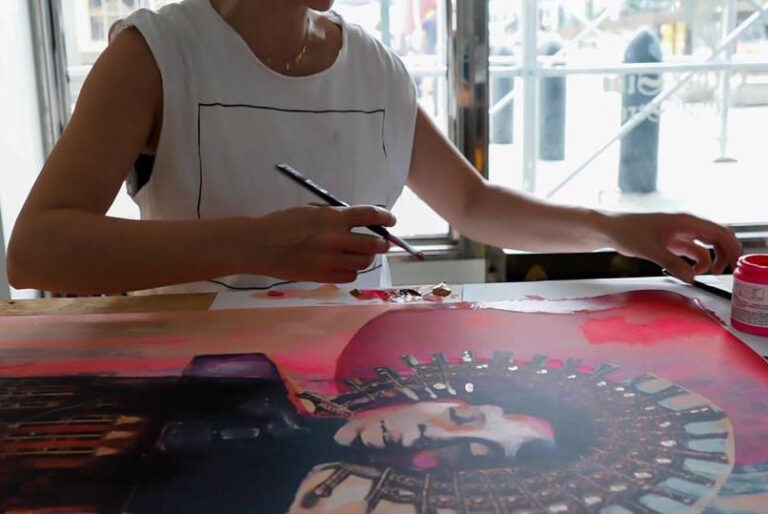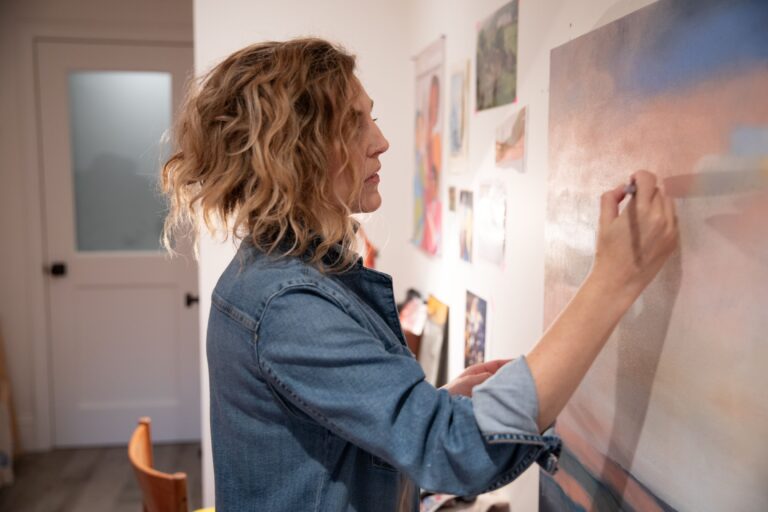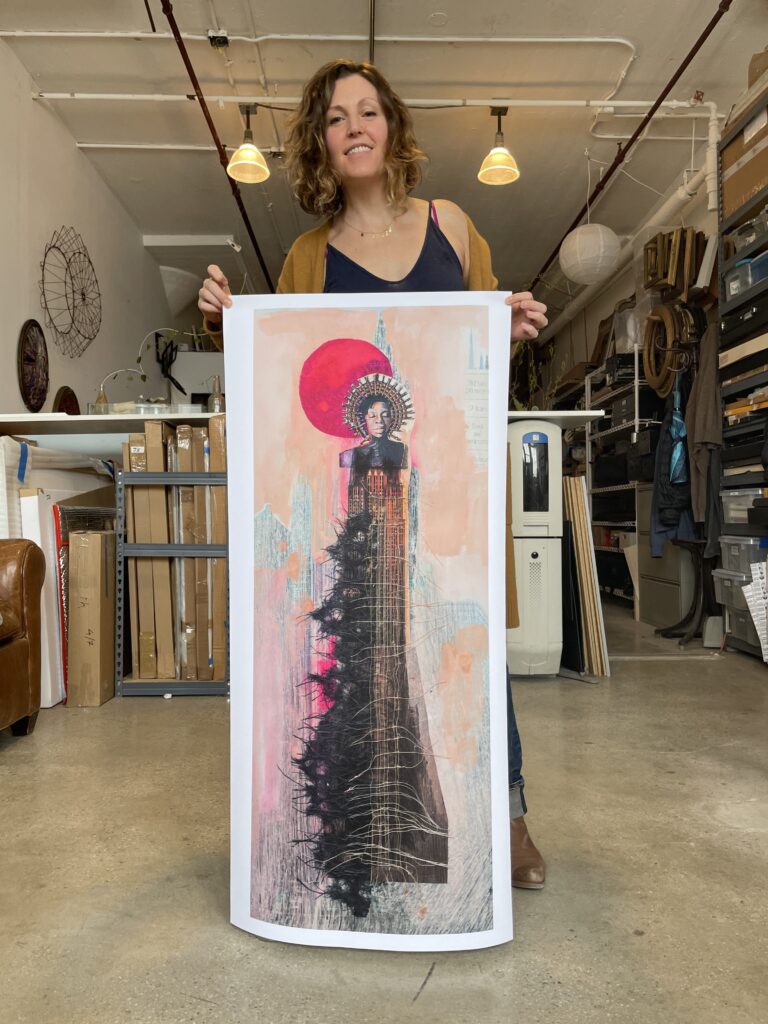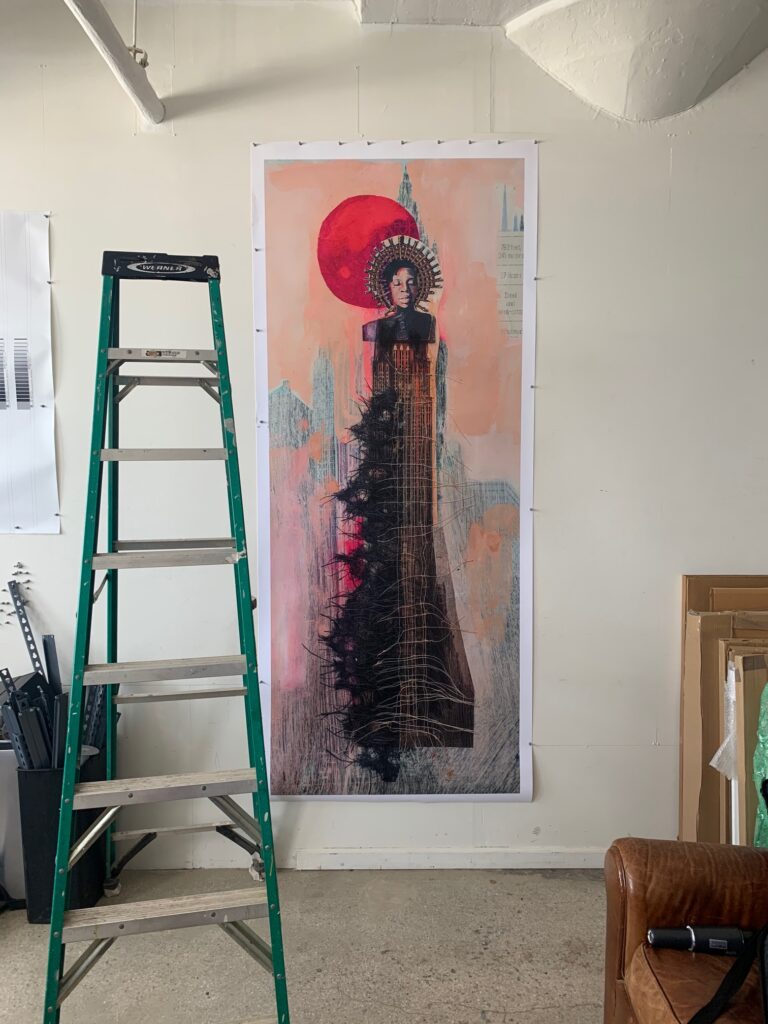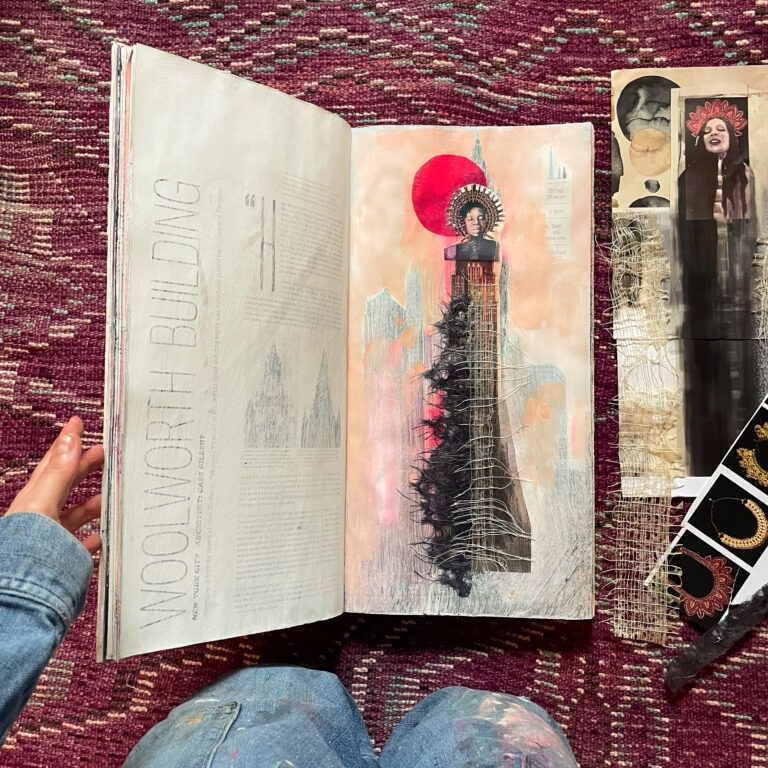 Kate's website is katequarfordt.com
You can also find her on Instagram @katequarfordt
Kate is a member of the Resistance Revival Chorus.
Through September 30, 2021, Kate's flags are on display at gallerywalk.nyc
Kate assisted another artist who is making a mural honoring actor Michael K. Williams. That mural can be found in Brooklyn at Lafayette Ave. and South Portland Ave.
Here are some great takeaways from our conversation:
I know we're all tired of seeing people through Zoom, but realize that it's a great way to collaborate with others who are far away. Kate used Zoom to photograph women for her portrait series called Sentinels, and she was able to virtually meet with each woman one on one.
Expand your notion of what is an art material to expand your own notion of art. Kate has used discarded books to make her art, but it doesn't have to remain in the book. She's taken high quality photos of each page and enlarged them to give more strength to her portraits.
Realize that artist studios can be for a short period of time if that's all you need. Look around and you may find something that can be utilized for less than a year commitment. Kate is taking advantage of a 3-month studio so that she can have the space to spread out and finish her current project.
Sometimes you need to push yourself to a level of discomfort to encourage yourself to do more. Start the art, and look for a space to show it later. Announce publicly that you're doing a project, and then you'll feel more committed to it.
Kate took advantage of a program in the city where she could utilize a small storefront space for her own limited time gallery. I've talked about that concept on the podcast before, as my area has an organization called Zero Empty Spaces that helps artists find studio space. This is a great thing to look into for your town, and there's no reason why you couldn't propose to a property owner a short-term use of their retail space for a studio or an art show.
I'd like to encourage you to collaborate with other artists. Kate talked about a mural she helped with as well as a public art project as part of a gallery walk that shows her art on flags. Collaboration will challenge you to create something greater than what you could do on your own. You're still able to showcase your talents, but it will enable you to expand into an area you haven't previously explored.