Artist Sandi Keene was new to Port Orange, Florida and wanting to further explore mixed media art, so she reached out to a local artist and asked that artist to show her what she does. From there, Sandi has developed her own artistic style, which includes watercolors, creating handmade books, using stitching on paper, and adding lots of other materials to her art pieces. Now she teaches online classes in book making and watercolors, and will be adding more classes later. She prefers to collaborate with other artists, so she teaches her classes with a partner, Rae Missigman, and she also hosts a podcast with artist Roben-Marie Smith, called Creatives Get Real.
Listen here or use a podcast app, such as Apple Podcasts, Castbox, Spotify, or Stitcher.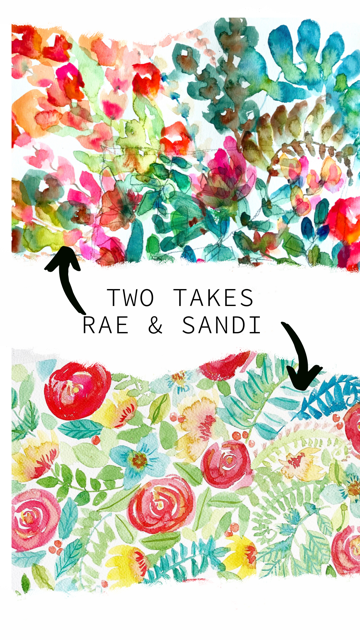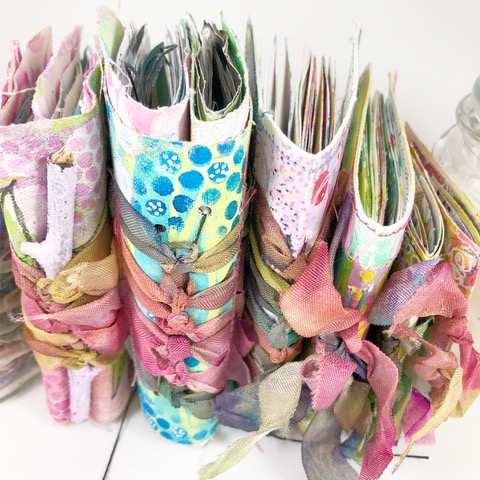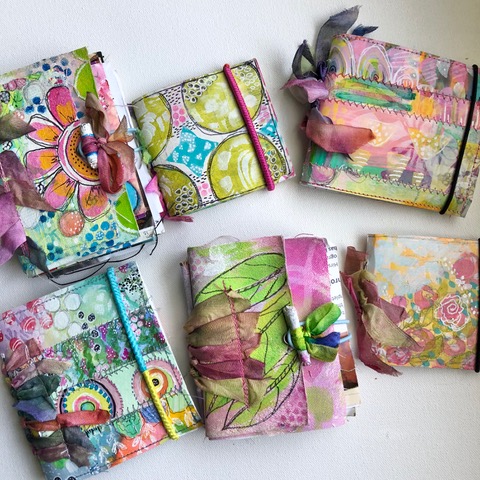 Sandi Keene's website is sandikeene.com. You can get to her online classes through the Popup Art Classes tab, or you can go directly to popupartclasses.com. These are the classes that she co-teaches with Rae Missigman.
Sandi did The Documented Life Project with Rae Missigman, Roben-Marie Smith, Barbara Moore, and Lorraine Bell. It is run by others now and it has continued on Facebook as Life Documented.
Sandi's podcast with Roben-Marie Smith is called Creatives Get Real. You can find that on any podcast app, and it is also linked on Sandi's website.
Here are some great takeaways from our conversation:
When you admire artists through websites or Instagram, look them up and see where they live. You may just discover that someone lives in your hometown. Sandi discovered that artist Roben-Marie Smith lived near her, so she invited her for a cup of coffee. It's great to venture out of the online world and meet a fellow artist in person. You may end up collaborating like Sandi and Roben-Marie have with their podcast, Creatives Get Real.
When teaching a class, a nice thing to do for your students is to make kits of supplies that you can hand out to them at the start of class. Students love this, and it's exciting to open a little bag and see what kinds of scraps and supplies you've gotten.
Seeking out other artists to learn from is a great way to expand what art means to you and to develop your art style.
When learning new techniques, it's a great idea to just try them out on paper first rather than expensive canvas. You'll feel less pressured to make things perfect, and you can just throw it away and try it again if you're not satisfied.
When you start making art regularly, I suggest you also start an Instagram feed. Start posting your art daily, and don't worry if you don't think you've fully developed your style. It'll come, and you'll soon find that you'll get encouragement from others that are seeing your art.
Taking classes will help to make you a better teacher of classes. You will learn what you like and don't like in a classroom.
Sandi and four other friends started the Documented Life Project. It started just because they all felt the need to be creative. Once they put it on Facebook, many more people wanted to join them. Artists want to create with other artists, so if you're doing an organized art project and you'd like others to join you, put it on Facebook or Instagram and see what happens.
Sandi prefers to teach collaboratively with other teachers. She believes that the power of two instructors is so much greater exponentially, and can be so much better for her students.
Sandi also feels that teaching online classes rather than in person can be very powerful because you can teach many more students and from all over the world.
Sandi and Rae Missigman have named the collaborative online classes that they teach popupartclasses. They've found that because they are different in their styles of making art, it works well to teach together and show how they both make very different things using the same techniques. It's almost like when they teach classes you are getting two classes for the price of one because you are seeing both teachers' perspectives on the art.
We talked a lot about different art styles, and agreed that it doesn't matter what type of style you have. You can still stay true to your style while taking bits that you learn from other artists. By taking classes, you are not rejecting your style, you are learning more so that you can add to it.
Sandi also collaborates with Roben-Marie Smith in a podcast they've made called Creatives Get Real. Again, the collaboration is successful because the listeners are getting two different opinions about one subject.
Sandi and Roben-Marie use Trello to record their ideas for their podcast. It's a great organization tool for planning projects.
When planning a collaboration with someone else, clearly define the different roles and tasks that each person will be doing.