Outdoor art shows can be quite lucrative for many artists, and they may sell hundreds or thousands of dollars of their art over just a weekend.  They're also a lot of work, so you need to carefully evaluate whether this type of show would be best for your business. In this episode, I will give you tips on how to find these shows, how to apply, and how to make them successful, so that you can decide if outdoor art shows are right for you.
 I have links below where you can find outdoor art shows.
Listen here or download from iTunes, CastBox, or Stitcher.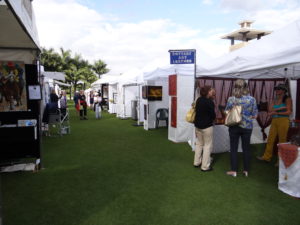 One of the biggest promoters of outdoor art shows is Howard Alan Events. You can find his website at artfestival.com. 
Call for Entry also lists large shows. 
Paragon Fine Art Festivals is another developer of art shows, and they list many on their website.
Bugbog lists art festivals from all over the world.
You can also find a lot on Art Fair Calendar.
You can also check the arts section of your city or county's website to see if they post art festivals.