Southern Oregon artist Roxanne Evans Stout calls her business River Garden Studio, as she is inspired by the Klamath River, and the birds, trees, and nature that she can experience so close to her home. Her artwork is a collage style that incorporates paper, fabric, stitching, and found objects. She shares her techniques and artistic talent through workshops that she teaches all over the world, as well as online classes that are available through many websites. Roxanne truly has a well-developed left brain, because she intuitively knows how to pursue art opportunities and is not afraid to create her own.
Listen here or download from iTunes, CastBox, or Stitcher.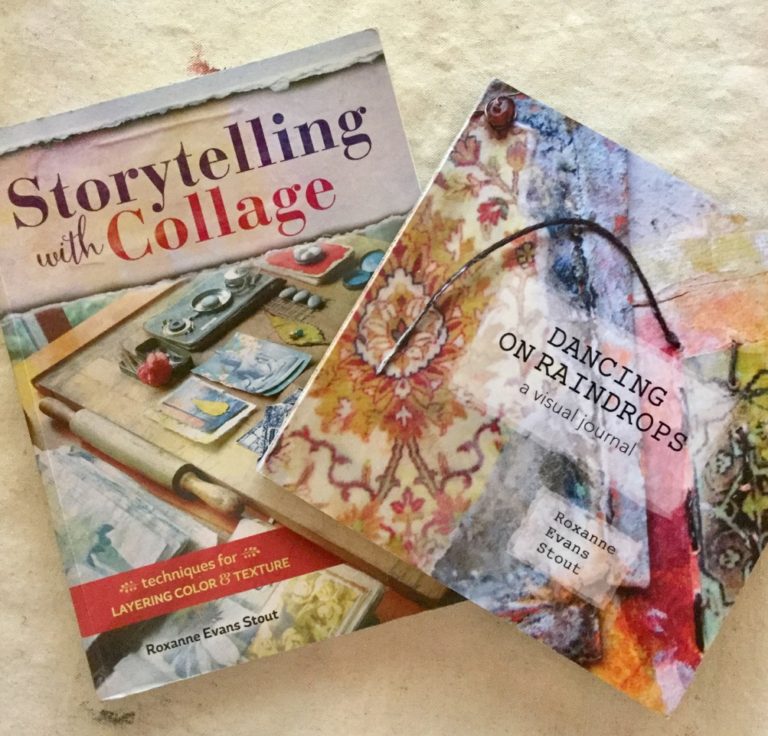 Here are some of the things we discussed on this episode (click on the names to follow the links):
Check out Roxanne's website: roxanneevansstout.com
You can find her on Facebook at Roxanne Evans Stout, or her business page River Garden Studio.
She is also on Instagram.
You can find Roxanne's art at these galleries in the Pacific Northwest: The Gallery in Mt. Shasta, Mt. Shasta, California; and Strange Angels Gallery and Gifts, in Port Orford, Oregon.
She is now teaching an online class called Collage Stories through Stencil Girl Studio. You can also shop for stencils she has designed at Stencil Girl Products on their shop page.
You can find both of her books on Amazon.
She finds Calls for Artists on the website Call For Entry.
Here are the takeaways from this episode:
See how you can be inspired by your natural environment. As Roxanne says, "This land makes me who I am as an artist."
Make connections with your local galleries, then just call them. Don't be afraid to walk in and show them some of your art.
Research where other people are teaching workshops and consider if that's a town where you'd like to go and a studio where you'd like to teach.
Look at the submission guidelines for your favorite art magazines and consider submitting an article.
Consider technical schools as a place to teach your art. Often they have art requirements that must be met, and you can develop the perfect class for them.
Online classes through another website are a great option, as they have the experience to help you develop them, and the following to get you loads of students.
If you've got a book idea, consider self-publishing, as Roxanne did with her second book, Dancing on Raindrops.
And finally, Roxanne has booked most of her workshops for 2019 already, so check out her website around November for the complete list.
Roxanne gave some great tips about how she keeps track of all her artwork. I'll talk about that on my next bonus business episode.