Artist Angie Follensbee-Hall, who lives in Vermont, is a mixed media artist who makes her own paper as the base for her creations. She adds natural materials that she finds in her yard, then adds paint and other materials to the finished paper. Angie also teaches classes, particularly one called The Creative Process in Art, where she talks about how creativity is so vital to our well-being. She recently hung a gallery show of her handmade paper wall hangings.
Listen here or download from iTunes, Spotify, Google Play, CastBox, or Stitcher.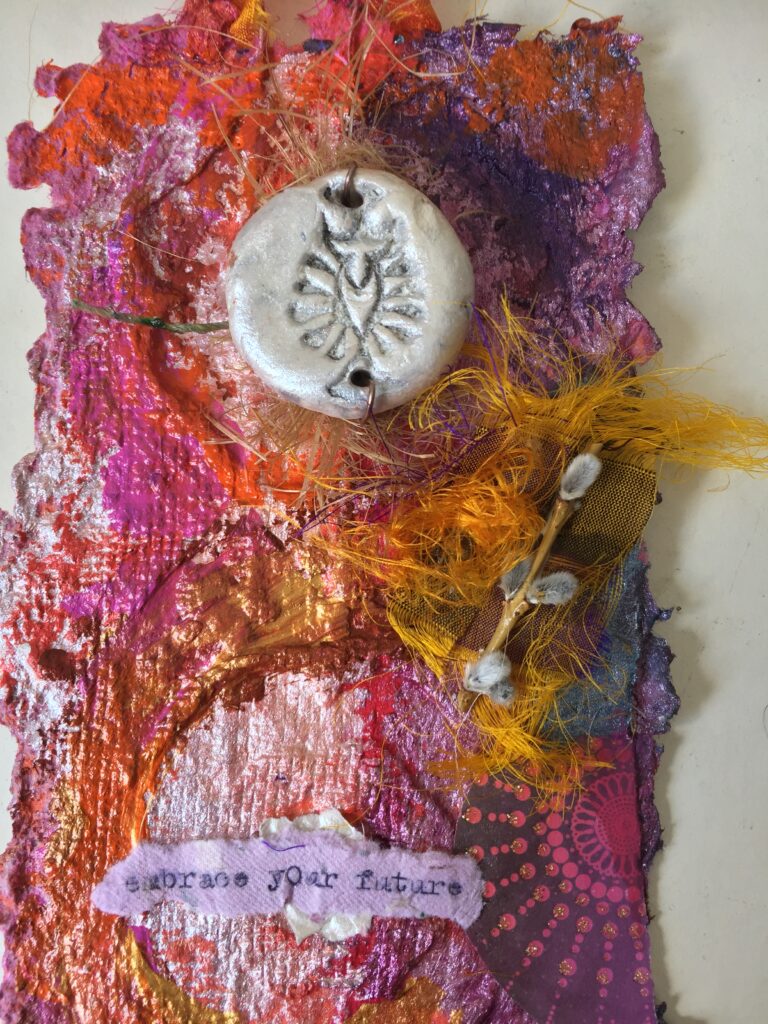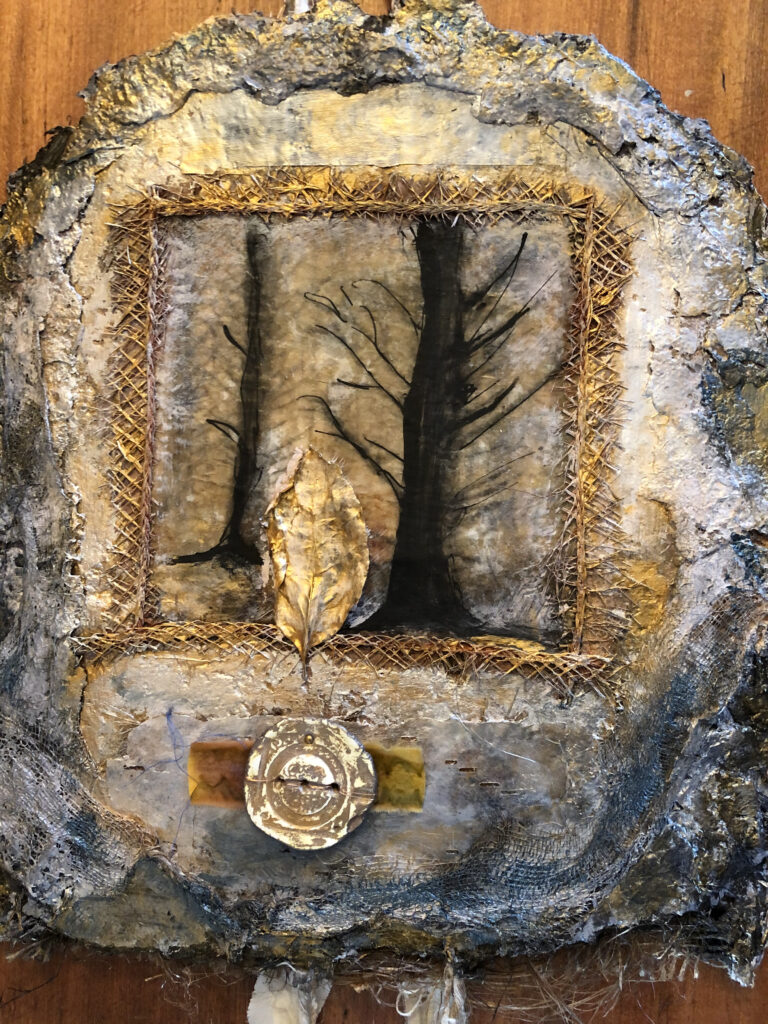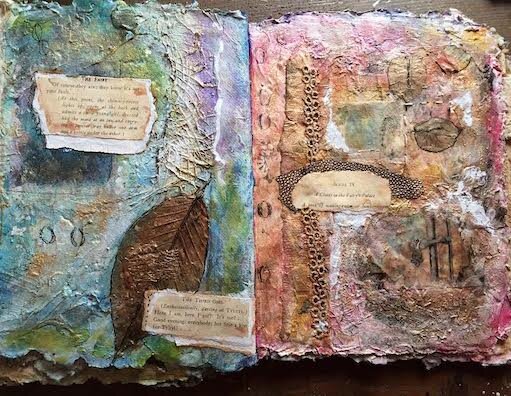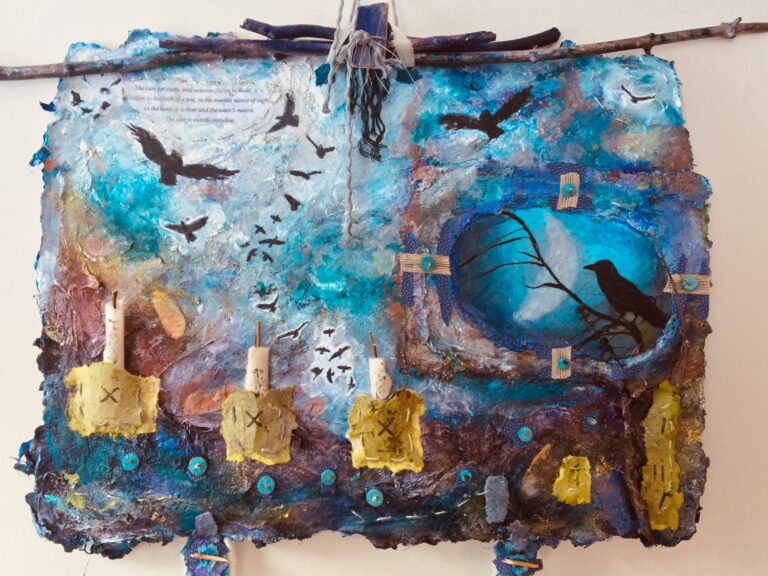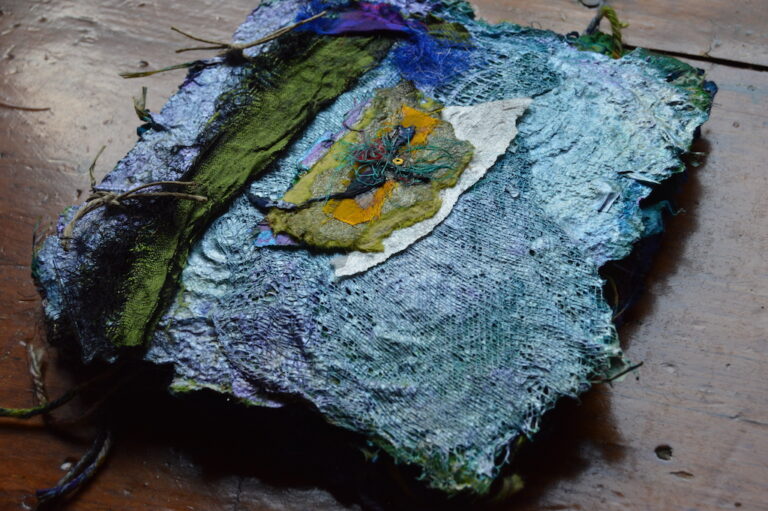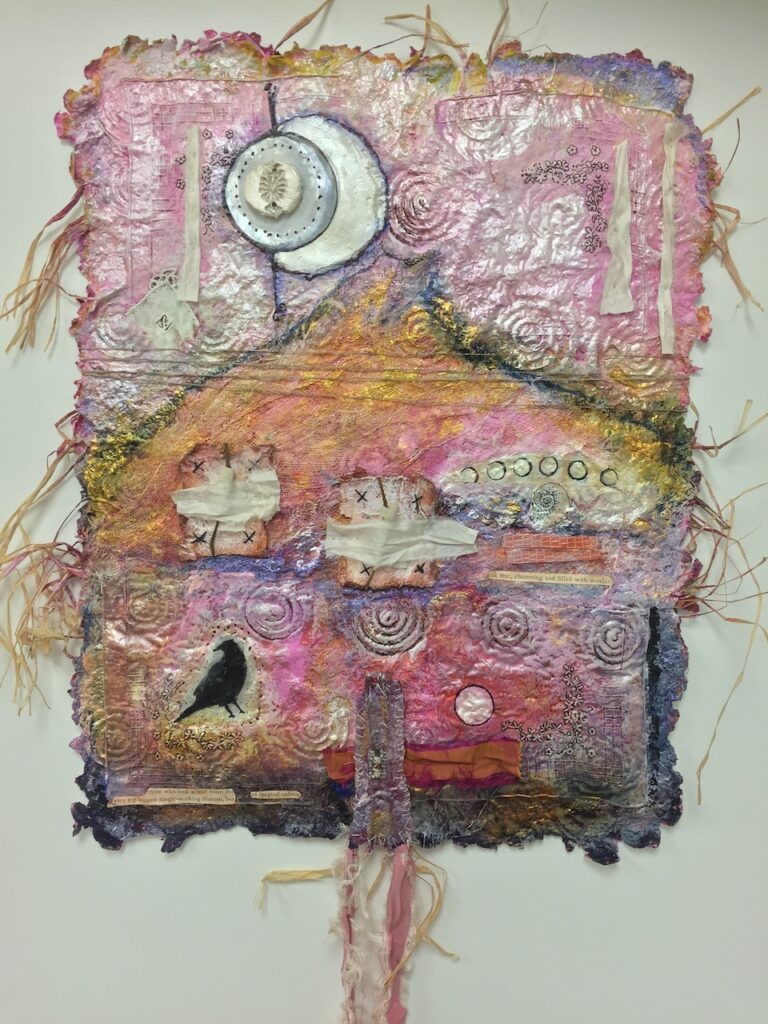 Here are some great takeaways from our conversation:
Angie makes paper to use in her art. When you're making one of your art supplies, make it in batches so you will have a lot to use in future projects. She makes paper about once a month for her art.
When making paper, she lets the individual pages dry on sheets of Plexiglas. That keeps them flatter than if she was drying them on felt. I'm thinking this might be a good suggestion for watercolor artists. Rather than covering your work surface with a plastic sheet to protect it when you paint, Plexiglas would probably work better. Plus you could pick up the Plexiglas and move it to another table to let the watercolor page dry while you are working on a new piece.
Gesso is used to create another layer as she's adding things to her handmade paper. It can be used as a glue too and she can adhere other things with it, like antique lace doilies.
Think about whether you want to frame your art or not and whether you want it to be behind glass. This is a decision only you can make, but you need to factor that in when finishing your art. For Angie's handmade paper art, she didn't want it behind glass because she wanted people to really see the texture of the piece.
When Angie teaches creativity classes, she asks her students to purchase a journal, but one with a boring cover. She's found that if they buy cool pretty ones, then they'll be afraid to write in it. Don't every buy one that is too pretty to write in.
Angie believes that when we are creative, we have a better sense of our purpose. Also, being creative is different for everyone. Don't compare your life to others when it comes to how you are creative.
Creativity is like a muscle. You have to do it regularly to keep it going, and you don't just do it only when you feel like it.
Taking online classes is safer during covid, but it's also safer if you're a little intimidated walking into a class of people you don't know. Instead, you can just take the class in your own home, even with your camera off so no one sees you.