Laurie Mika is a polymer clay artist who shapes, paints and stamps clay, and assembles the pieces into mosaic creations. Her polymer clay tiles can be square like traditional mosaics, or they can take on an organic form. Laurie's mixed media art has evolved over the years, but she's stayed true to her love of medieval and renaissance styles. Many of her pieces contain words and faces, through stamps or image transfers. Her creations have been published in many publications, and she has taught her techniques in workshops and online classes. She has also written a book called Mixed Media Mosaics.
Listen here or download from iTunes, Spotify, Google Play, CastBox, or Stitcher.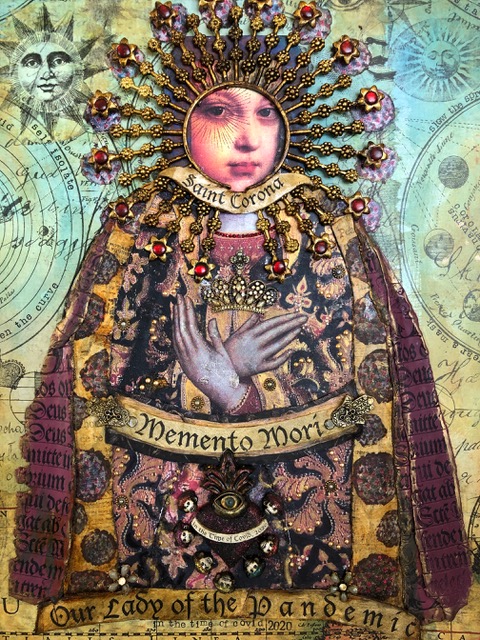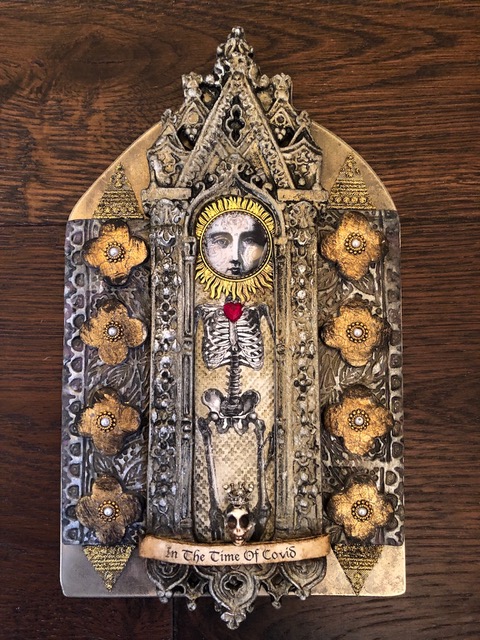 Here are some great takeaways from our conversation:
You have many choices of bases when making your art. Laurie has used wood and MDF, which is medium density fiberboard. She has also used cradle board, which is a wood board with a wooden frame, or sides. None of these need to be later framed. Think about if you want to frame your art, leave the sides blank, or embellish the sides, which you can do with cradle board.
There are many ways you can create image transfers to use on your art. One way is to print it out using a laser printer. Inkjet printers won't work and the image will break down when you try to do the transfer technique.
You do not need a separate oven to bake polymer clay, but you can buy small craft ovens so you're not using your kitchen oven. Laurie uses the brand Amaco for her small pieces.
Online classes are very popular right now. If you aren't comfortable filming your own class, look into businesses who can film, edit, and host your class for you. Laurie uses Create Arts Online and she went to their studio to film her class.
Don't be afraid to experiment with different materials and techniques with your art. Take classes from other artists and watch videos to discover new ideas and methods so that your art can evolve over time.
A great way to expand your art business beyond selling originals is to design products that can be sold through other sites. Laurie has a line of stencils that she sells through StencilGirlProducts that you can find on their site.