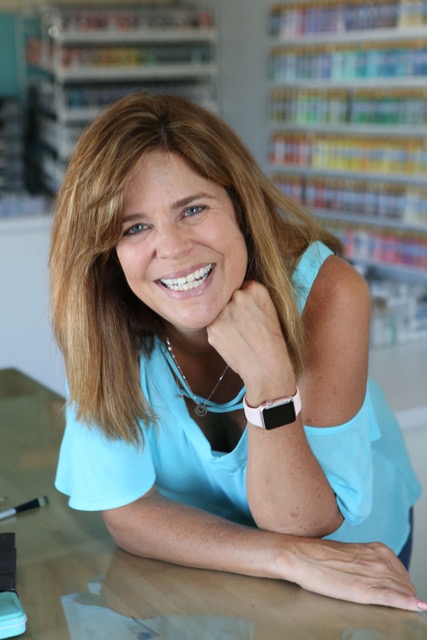 Tracy Weinzapfel is a mixed media artist in California. She has worked with many companies as a designer and art educator. Tracy's also the creator of the artist community called Your Artful Journey. Her community provides classes, prompts, and challenges for its members. She also interacts through Facebook Live events and has a full library of videos on YouTube. 
Listen here or download from iTunes, Spotify, Google Play Music, CastBox, or Stitcher.
Where You Can Find Tracy Weinzapfel
Here are some great takeaways from our conversation:
When Tracy was looking to get back into art, she started with a journal, and a small amount of art supplies she could take with her. This allowed her to try out techniques whenever she wanted.
She'll also work on a journal page for a short amount of time, maybe 20-30 minutes. That way she can feel like she's finished something and she can move on to something else.
Make sure you use the art supplies that you've bought. Don't treat them like they're too precious to use – just go for it and make something with it.
Tracy has partnered with someone who can take on a lot of her business tasks. She referred to it as a partnership. If you're doing something like that, make sure to make it official and spell out what each one of you will be doing. As she pointed out, it's her name on the business no matter who does what, so she ensures that everything will be done that represents her properly.
One aspect of the community Tracy has created is the Facebook Lives that she does every week. She offers a free Facebook group that anyone can join, and you can watch her events, comment during them, make art while you're watching Tracy make art, or watch the recorded version later.
She also has a monthly membership community that has their own private Facebook group, and she offers videos and opportunities to create together and ask questions. She regularly schedules these events. The members can also look at a backlog of all her previous events.
I asked Tracy why she doesn't allow people to join her membership any time of the year. For example, right now, it is closed to new members but you can get on her waiting list and be the first to know when she's opening up the membership again. She said that she likes to do 1 or 2 launches a year. That way she concentrates on getting new members during a short period of time, and the rest of the year she can focus on making great content for the members.
Tracy makes sure that she includes content for beginners as well as advanced artists, plus artists who want to make a business.
Tracy gets ahead of things by mapping out content for many months into the future. She also finds that she gets ideas from her members for future content.