When Kasia Avery discovered art journaling, she realized that was exactly what she wanted to do and that she wanted to teach her techniques to others. She and her husband Jamie invited other artists to create classes, and they've put together a yearly group of classes called Wanderlust. They're in their 5th year, and they offer one class per week for a year, including classes that they teach as well as classes from 24 other artists. December 31, 2019 is the last day you can sign up for Wanderlust 2020, so be sure to go to my website and look at the Show Notes for Episode 134 to use my affiliate link to sign up for Wanderlust.
Listen here or use a podcast app, such as Apple Podcasts, Castbox, Spotify, or Stitcher.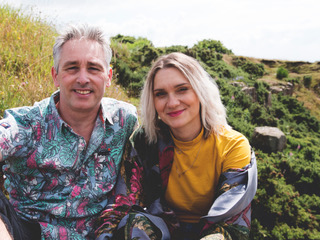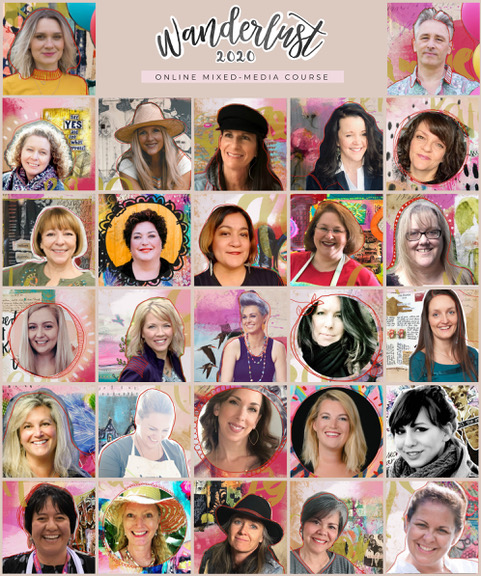 All of Jamie and Kasia Avery's offerings are found on their website everything-art.com.
Kasia also has a blog on her personal website that she updates, and you can also see photos of her artwork on her personal website, kasiaavery.com.
In addition to Wanderlust, Kasia and Jamie also offer other courses that you can find here.
You can follow Kasia on Instagram @kasiaavery or @everythingartuk. You can also follow these hashtags: #eaclasses and #wanderlustclasses.
Kasia mentioned the artist Finnabair. She first took art classes from her and Finnabair has been a Wanderlust instructor.
Here are some great takeaways from our conversation:
Art making doesn't have to be fine art. It's all to be explored, even the messy art with many layers and mediums.
Not too long after Kasia started art journaling, she realized she wanted to make income from teaching this kind of art. She worked at night developing her weekend classes while she had a different day job. This is a great way to work your way into an art career quickly.
Teaching online classes is a great way to teach from your own home and not travel to teaching locations.
Kasia and her husband Jamie reached out to other artists to see if they'd like to teach classes under their Wanderlust brand. You won't know if that will work unless you give it a try and reach out to people. Remember, it's all about just doing the ask. You won't get anything if you don't ask.
If using other instructors, give them some kind of parameters to work with, like theme or subject matter, and the length of the class.
For 30-minute video classes, Kasia suggests breaking that down to a few smaller videos rather than one long video. This appeals to students because they can do small chunks of the class at a time.
Kasia opens the signups for Wanderlust in September. Because the first video doesn't become available until the first Friday of January, she offers other content and mini classes that people can do in the months leading up to January. This is just extra bonus content for everyone. That's a great way to keep people excited about your classes.
Kasia offers Wanderlust as lifetime access. That means that although the classes come out every Friday for a year, you will always have access to them. Instead of doing one class per week, you can do them at a slower pace if you'd like. This makes the class more appealing to people because they are trying to fit it into their busy lives.
Kasia also offers other classes on her website. These are good to try so you can learn a little more about art journaling and see if you'd like to join Wanderlust for the year. It's always good to offer extra videos or tutorials so people can learn about your art and teaching style.
Art journaling allows you to express anything you feel, so it can be a very personal form of art.