Rachelle Kearl is a painter that is inspired by the wildflowers in Alberta, Canada. She creates beautiful floral paintings that are sometimes very detailed and sometimes more graphic in design. Often her paintings are large because she wants to make grand gestures on her canvas. Her paintings are shown in boutiques and artist collectives near her home. She's hoping to be able to teach in person after the first of the year, using her skills as a former school teacher.
Listen here or download from iTunes, Spotify, Google Play, CastBox, or Stitcher.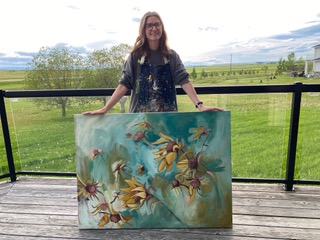 Here are some great takeaways from our conversation:
We talked about art having a purpose. Some people stop making art because they don't think it has a purpose. We forget that the purpose can simply be to make someone think or to make them happy.
Rachelle talked about learning from artist Betty Krause, that you should start out painting by activating your canvas. Just put some paint down, any color, and you don't need to know where it's going to go. This gets you started and you can change your colors or ideas later.
The first marks also help to treat your canvas as if it's not too precious. Sometimes people are afraid to "mess up" a canvas and that's why they can't make the first mark. Just go for it and get it started.
Rachelle paints large canvases because she wants to make large gestures. The canvases suit what she's trying to create.
When I was talking with Anthony Burks in Episode 185, he said that he had moved into a studio space that was a formerly empty store front. In his case, it is one space that has 18 smaller rooms for 18 artists. Rachelle told me that in Calgary they will utilize empty spaces in malls. She's a part of an artist collective that is one space where many artists can show their work. These are great programs that utilize empty spaces, and they're good for the retail areas because they'll look busier and bring in more people.
Artists are starting to think about offering in person classes for next year. Rachelle mentioned that she will decrease the number of students so that they can keep their distance while working.
Rachelle mentioned a great thing she did when she was teaching pre-school for 3-5-year-olds. If they were working on something, she wouldn't tell them what to do, instead she would say "Do you need anything?" That can be used for adults too. It's a very encouraging statement that helps them to keep going.
Her paintings are inspired by the wildflowers she sees near her home. She takes photos on her walks, prints them out, and puts them in sheet protectors in binders. That way she has inspiration even when she's in her snowy months and there are no flowers around.